Telescopic Mast Systems for Broadcasting Vans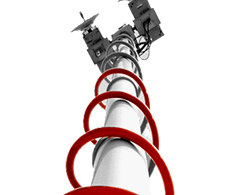 YUASA holds over 95% of the domestic market for
broadcasting van use telescopic mast systems.
Configuring Telescopic Mast Systems Keyed to Diversification in Broadcasting Vans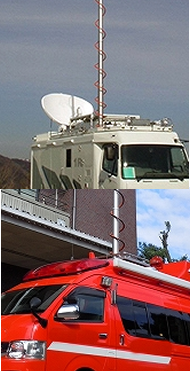 YUASA hydraulic telescopic masts have evolved into highly reliable products, and now account for over 95% of the Japanese market for use in broadcasting vans.
Use of YUASA hydraulic telescopic mast systems, mustering hydraulic drive stability and reliable operation during transmission, now reaches beyond broadcasting stations. Our telescopic mast systems for broadcasting vans have also been developed to meet a wide variety of needs of telecom companies, government offices and numerous other users.
At government offices, these products are operated as wireless communications systems for use in command vans, while at telecom companies they are utilized as emergency mobile telephone base stations.
The equipment that must be installed, elevated and operated high above the ground continues to diversify. Telescopic mast systems for broadcasting vans designed to satisfy user needs are also constantly evolving to address these changing demands.
Broadcasting Van Telescopic Mast System Profile
Telescopic mast systems for broadcasting vans may be broadly divided into six key components: The mast itself, the pan tilt, hydraulic unit, hydraulic tank, control panel and remote controller. * Also available are space-saving units integrating the hydraulic unit and hydraulic tank.
Hydraulic drive contributes to high reliability and stability.
The remote controller makes it easy to raise and lower the mast and operate the pan tilt.
The optional vehicle stability jack system may be operated from the telescopic mast, shared use hydraulic unit and hydraulic tank and the control panel.
Standard components for Broadcasting Van Telescopic Mast System
Controller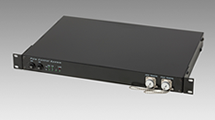 Control box for controlling the telescopic mast and pan & tilt system, as well as the optional stabilizing jack cylinder. Connect a remote control to use the controller.
Electric pan & tilt system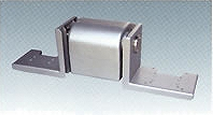 This system can be mounted on the top of the mast to rotate the antenna, camera or the like up, down, right and left.
Mast remote controller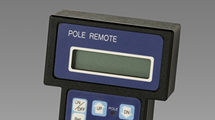 Centralized control over telescopic mast vertical operation and circling-elevating unit vertical and horizontal rotating operation.
Hydraulic unit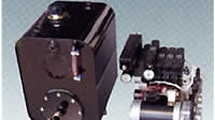 The hydraulic drive unit. Shared use possible with telescopic masts and the jack system.
Space-saving power unit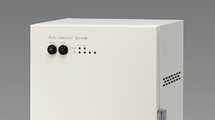 Hydraulic drive unit integrated with the tank, designed for use in small-size vehicles.
Optional components for Broadcasting Van Telescopic Mast System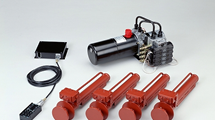 Vehicle body stabilizing jack sustem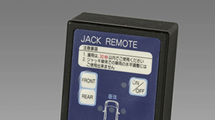 Jack remote controller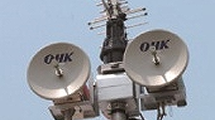 Rotation system