Crankshaft Machining Examples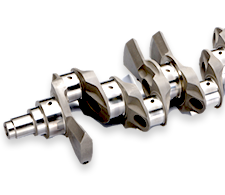 Crankshaft and various other metal products,
supporting industrial products from
automobiles to ships and railways.
Products Machined on Consignment
Automobile use
Motorcycle use
Light aircraft use
General-purpose engine use
Farming machinery use
Bus use
Truck use
Ship use
Outboard motor use
Pump use
Railway vehicle use
Compressor use
Products for other uses
Special precision machine parts
Quality Control

Scrupulous quality control holds the key to manufacturing excellence from small-lot through mass-production runs.
Premiere quality control technology, the true essence of YUASA know-how, opens the door to millimicron-level precision.
Operation Flow