Crankshaft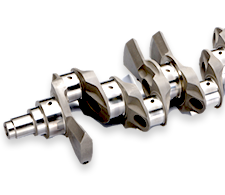 Integrated production systems achieving meticulous quality control.
Responding with speed and precision from small-lot to mass production.
Installed in the engines of automobiles, motorcycles, farming machinery and other products from renowned Japanese manufacturers.

We propose global crankshaft solutions to meet any market needs around the world.
Addressing a wide variety of customer demands with technology and know-how pursued by YUASA for over 60 years.
The determination to bolster customer product prowess with the micron-order quality achieved at YUASA.
Japan's premiere technical strength and know-how, rooted in a thorough grasp of micron-order precision

YUASA ranks as one of Japan's few independent companies with the hardware and technology capacity for streamlined mass and trial production, ranging from raw materials to finished products.
Our crankshaft lineup excels in automobiles, motorcycles, outboard motors, light aircraft, farming machinery, generators, compressors and numerous other sectors.
Technology and know-how, cultivated on the foundation of a vast scope of engineering achievement, instilling the confidence crucial in coming to grips with all demands.

Crankshaft Solutions

As a strategic partner constantly supporting the progress of its customers, from medium- to long-term crankshaft production system backup to short-term responses, YUASA shoulders a key part of the supply chain in realizing high-quality products.
Outsourcing
As a medium- to long-term business partner, we support the creation of dependable production systems.
Increased production efficiency with mass-production lines
Manufacturing service parts after mass-produced items are discontinued
Curbing capital investment
Peak Cut Machining Support
Vital backup for production systems engineered to take maximum advantage of order opportunities.
Busy period production support
Backorder production support
Trial Production
Trial products (forged parts, round bar machined parts)
Development projects
Quick delivery machined products
Partial Machining Support
Emergency responses to capacity over processes
Backup at equipment breakdowns
Production Method
Marshaling solid technical strength to swiftly configure the optimum production lines to handle customer orders.
Manufacturing from samples, also adept at addressing small-lot multiple-model production needs.
Mass-Production Lines
Mass-produced items (repetitive production items)
Large-lot spot production (machining support items)
Trial Production Lines
Trial products
Replenishment parts
Small-lot spot production
Blank machined products
Test piece machining for line startup
Machining Responses
Using technical strengths cultivated over the years to support output of diversified product groups.
From round bars, casting and forging materials, to finished products including heat treatment.
Special processes: Gear cutting machining (splines, sprockets), fillet rolling, high-frequency hardening, etc.